A two-man bucket truck to hang paper? Why?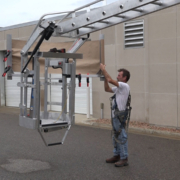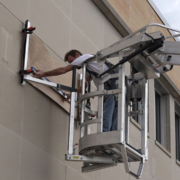 I've always considered the sign industry to ride on the leading-edge of technology. Every year, I'm anxious to walk the isles of the ISA Show to view the latest and greatest technological solutions.
The exception, however, within this otherwise hi-tech industry is sign installation equipment—particularly channel letters. This clumsy process starts with hanging paper. More often than not, the paper is of the variety I've seen fish wrapped in, and the tape seems best suited for fish-wrapping as well. When a 10 mph breeze blows across the front of the building, it's anyone's guess if the paper will rip or the tape will fail (It's usually one or the other). Either way, the process then starts afresh and frustrations mount. Hence the need for a two-man bucket, along with a second person to occupy that bucket, simply to hang a paper pattern—one person to hold, and the other to level and tape.
This process doesn't get much easier when it's time to install the letters. Without specialized material handling capabilities in the basket, the channel letters typically ride up the side of the building on the toe of someone's work-boot, effectively immobilizing the boot-wearer, requiring again a two-man basket, along with a second man. That's expensive!
At Van Ladder, we don't manufacture a two-man bucket truck, so we keep asking the question: "How can we help sign companies do this with one person?" Mistakenly, we though our banner spindle would do the trick, dispensing the pattern by simply rotating the bucket, but we quickly discovered something: Wide patterns require the bucket to be moved up and down for taping, so affixing the pattern to the bucket wasn't the answer. That's when we came back to our shop with a paper pattern and a challenge to one of our guys: "Hang this by yourself on that wall outside—in the wind—and keep it level."
Necessity is the mother of invention, so it wasn't long before the pattern-arms were developed, becoming an important part of Van Ladder's one-man aerial arsenal. The pattern-arms free both hands for dispensing, leveling and taping, doing nothing more than the second guy in the bucket does, but for a lot less money.
Once the paper is up and the holes are drilled, the swiveling platform on our Chariot Bucket keeps the letters secure while the technician rotates the platform into position, giving himself hands-free to access to his work. Now, the job can be accomplished in half the man-hours with a less expensive bucket truck, freeing the bigger truck to lift bigger and heavier things (You know—like you bought if for). We think we have the most profitable solution for installing channel letters, and so do the companies who've bought the new Van Ladder with the Chariot Bucket. If you'd like to see it in action, here's a link to a short video: https://www.vanladder.com/chariot-bucket-sign-installation-precision-signs/