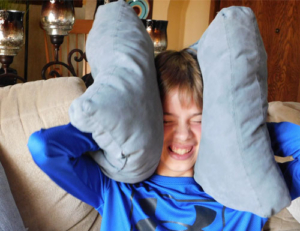 As a kid, I remember my mom requiring me to raise my legs so she could vacuum up the fallen crumbs from the floor alongside the couch (Let me clarify that this was before I was properly trained to operate equipment). J Although lifting my legs was a bit inconvenient, it wasn't nearly as frustrating as trying to read Greg and Marsha's lips on the television while the vacuum roared in my ears. (Fortunately, I was smart enough to internalize my complaint. If I would've opened my mouth, my equipment training would have started immediately!)
My point: It's nice to be able to hear each other when the equipment is running—because the stakes at the jobsite are much higher than missing a few lines of the Brady Bunch. Your installer's safety might depend on hearing his or her partner say, "Watch out for that wire!" At the very least, the person in the bucket should be able to request a few more screws from the ground-person without disturbing the customers inside the store.
We were recently reminded that most bucket trucks are loud and stinky. For Classic Sign Service in Missouri, the Van Ladder's absence of noise and fumes proved to be one of its top qualities. That's because the Van Ladder can run all day on the batteries—no fumes and very little noise.
Want proof? Watch this short video showing Classic Sign Service using the Van Ladder to hang raceway signs for Pappy's Smokehouse in St. Louis.
At Van ladder, we're trying to start a quiet revolution.