The box constructed boom manufactured with high tensile 6000 series aluminum provides a safe and rigid work platform for operators.  Van Ladder's unique rolling fulcrum design makes the design efficient as well as strong.  The enclosed cargo area continues to be wide open with remaining vehicle load capacity around 4000 lbs on average.  NO OUTRIGGERS are required, making each jobsite visit quick and easy.
Standard Features
45 feet working height
28 feet of side reach
350 lb load capacity
360 continuous rotation
Ground level bucket entry
All electric – ZERO emissions.
Industries served
Sign installation
Lighting installation
Flag Installation
Electrical contractors
General contractors
Cable Splicers
Painting contractors
Building maintenance
Sign maintenance
Lighting maintenance
Security Systems contractors
Window washers
Aircraft Maintenance
Cable Companies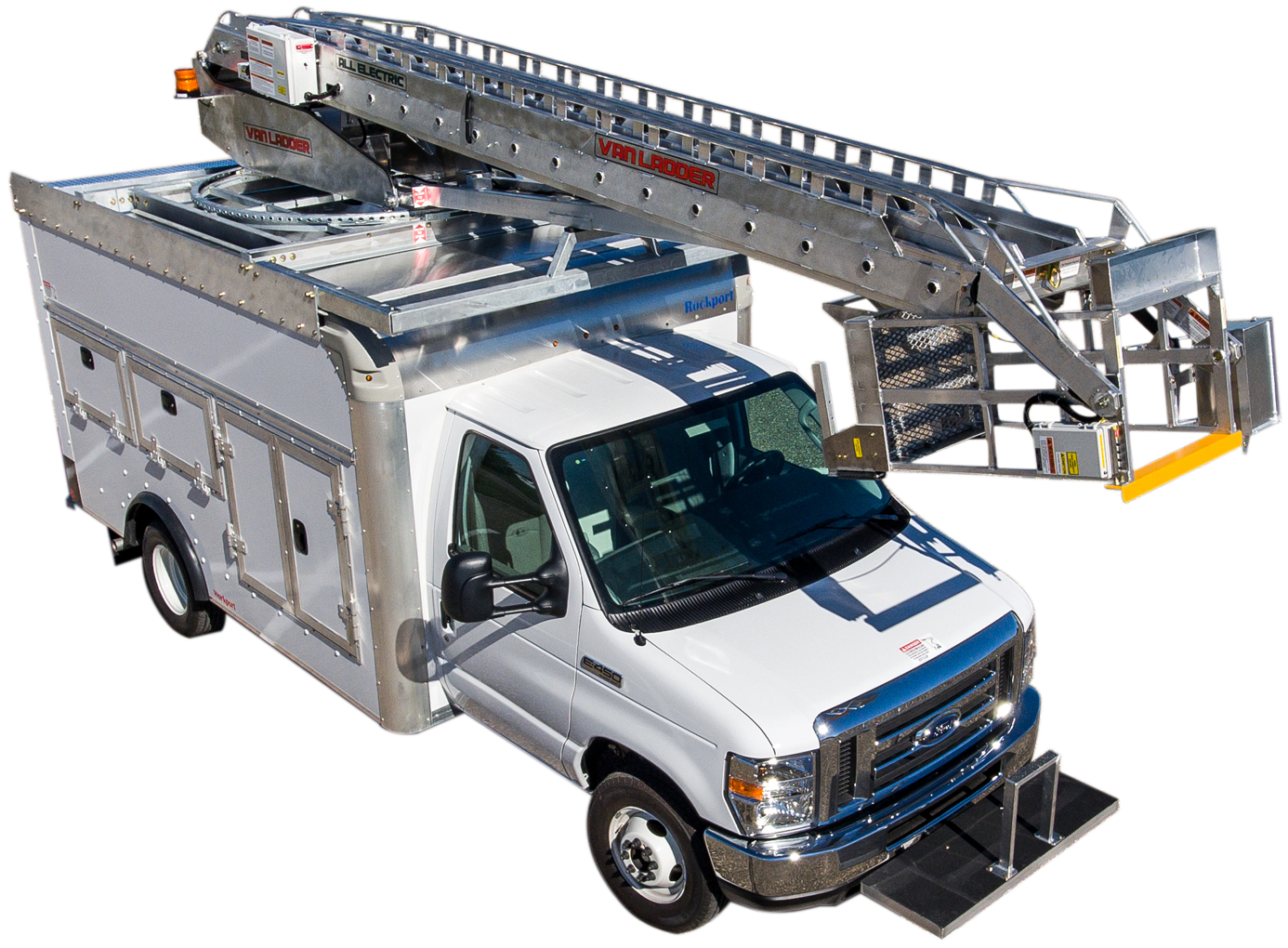 1
45 feet working height
28 feet of side reach
350 lb load capacity
2
360 degree continuous rotation
4
Simple, serviceable electronics in durable weather proof enclosure
5
Numerous vehicle body options, with or without side access storage compartments
6
Unique rolling fulcrum design
7
Automatic bucket leveling system, utilizing linear actuator
8
Fall arrest anchorage point for operator in bucket
9
Intuitive and serviceable controls in a durable weather proof enclosure
10
Cage bucket provides superior versatility and ergonomics
See how the all new Model 3928-HDX combines real world versatility, performance, and safety into an aerial lift that only Van Ladder can build.
First-class performance and affordability come together in the all new 3928-HDX Van Ladder bucket truck.  The robust ladder boom design makes this the perfect work horse for numerous industries.  The flexibility of being installed on a variety of enclosed bodies and vehicle types allows each Van Ladder to be tailored to what works best for you.
Efficiency creates profitability.  Quickly set up your jobsite with no outriggers.  Operate the boom at the jobsite with zero emissions while the vehicle is turned off.  Utilize the many time saving accessories to do more and make more.
Work smarter with Van Ladder aerial lifts.