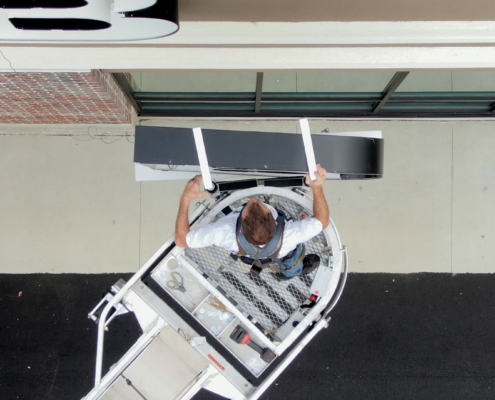 Twenty years ago, we discovered something interesting: Sign techs don't have enough hands to hold a sign face, operate the bucket controls, and run their cordless tools—all at the same time. That's when we first developed bucket forks. It's probably hard to believe now, but other bucket truck manufacturers weren't making forks for the front of their bucket back then. As far as I know, we were the first manufacturer to do so.
In the ensuing years, however, we fell a bit behind. Some of the hydraulic boom truck manufacturers figured out how to make their buckets articulate around the boom—a wonderful feature, allowing operators to rotate their work platform and square-up to a wall, eliminating the frustration of having to work over the corner of the bucket.
At Van Ladder, we wanted to follow suit by creating an electric version of the rotating bucket. However, while in the R&D phase, someone asked an interesting question:
"Why don't we just make the front of the bucket round? Then they'd never have to work over the corner."
Most of us laughed, thinking that if a rounded bucket was a legitimate solution, someone else would have thought of it already.
"What about material handling?" someone asked. "How would we mount the forks to a round bucket?"
That's when the magic started to happen.
"If the front of the bucket is rounded, why couldn't the forks rotate from one side to the other? Then they could just move the signs into place, and have their hands free to work."
We built a prototype, and it functioned beautifully. With the pivot-point centered underneath the bucket, and heavy-duty rollers mid-way up, the more weight we placed on the forks, the smoother they traveled.
We brought the new bucket to a few sign companies and helped them perform installs. Soon, we were dreaming (along with the installers) of all the accessories that could slide into the square-tubing and pipes—forks, platforms, pattern arms, banner spindle, face-rail—creating a one-man aerial workshop for sign and lighting companies.
Oh—the name. One day, one of our shop-guys was staring at the prototype. Then, smiling cleverly, he walked over to the shelves, pulled down a couple of wheels, and leaned one on each side of the bucket. "Look," he said, "It's a Roman Chariot!" He was right. And that's the story of the Chariot Bucket. To see it's features, or to watch a short video, check out this link: https://www.vanladder.com/chariot-bucket/